*At San Diego Laser Spa we offer the latest in laser skin resurfacing technology, at our center we use the Erbium Laser. The Eribium Laser is ideal for skin resurfacing and for patients requiring a more aggressive treatment. Most laser skin procedures are performed under sedation so that you are comfortable and the technician can be aggressive with procedure. Healing usually takes about a week following initial skin resurfacing procedure.
For those patients who don't have a week to heal heal we offer Fraxel and Pixel. These techniques leave non-treated skin islands between areas treated by the laser. This results in less pain and quicker healing (usually 1-3 days). Multiple sessions may be required to get optimal results.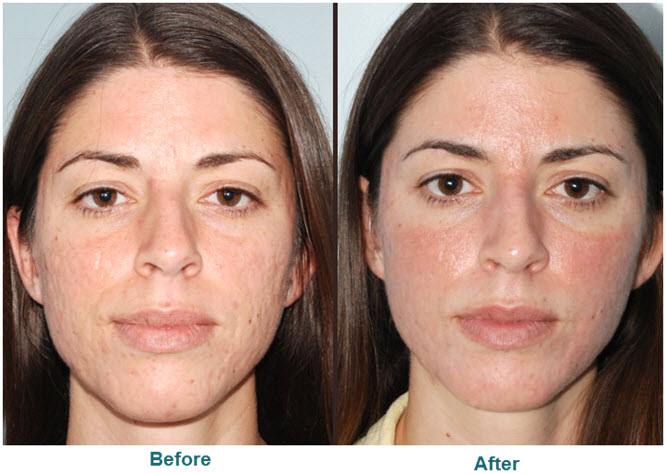 The Treatment Process:
Prior to the laser touching the skin the area that is being treated will be cleaned of any dirt and makeup so that optimal results can be achieved. A topical anesthetic will then be applied to decrease any perceived pain or discomfort. The doctor or registered nurse will then gently apply the laser hand piece and guide it over the area to be treated. Treatments usually take 10-20 minutes long depending on the size of area being treated. Although the lite laser facial usually gets a good result from one treatment, multiple treatments may be required. Results may vary on different patients the treatment provider will be able to provide more information on what is to be expected and how many treatments are recommended to achieve the desired results.
The Healing Process:
Post treatment, some redness may linger, warmth, or feeling of tightness in the treated area. All should be expected and should fade within a few hours. Tylenol may be taken if needed for pain. A cool wet washcloth can also be used for comfort. Continuous application of ointment should be done to keep face moist. Do not wash treated area until day three post treatment with only mild cleanser and water. Any peeling of the skin is normal. If any small blisters appear use antibiotic ointment or Neosporin on blisters only. By day four post treatment normal facial skin care may be resumed. Always use sun block that is SPF 30 or higher after laser treatments.